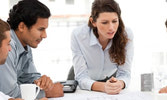 Our Philosophy: The Data Centre is your Ecosystem


Our approach to data centre design is to think in terms of "designing an ecosystem". A successful design encompasses everything an ecosystem requires to be healthy and balanced. A sustainable environment for everything that exists in the ecosystem. Critical in this endeavor is balancing all the variables by understanding how each impacts the other.


This analogy applies to a data centre's design. Without adequate power availability, cooling, security, and related support systems, a data centre's ecosystem becomes unstable and unpredictable, resulting in business applications that malfunction.
PowerHouse people are experts in being curious. We have the patience, and the experience based insights to imagine the manner in which all the variables in the data centre ecosystem will impact each other. It is with this understanding that we begin to design a data centre ecosystem that will be stable, predictable and scalable. Our approach applies whether we are designing a network closet or an extremely complex data centre.



Edge Compute to Data Centre Design
We start with the end result

At PowerHouse Group we start with operational ability in mind. To ensure appropriate Engineering solutions are established for each client, the needs of that client and their business requirements affecting the facility must first be defined.



In order to design a new home, you would begin by meeting your builder or architect to clarify your lifestyle intent, the purpose each room will serve in helping you achieve your ideal lifestyle. At this point you are ready to specify the number of bedrooms, bathrooms, the size and type of the kitchen, and the other special features you require.

Similarly, PowerHouse Group will define your business intent, what specifics the new data centre must have to support the operational and reliability needs of your IT organization.



Design

We specialize in collaborating with the various teams responsible for operating the data centre space, network, servers, and storage selection, to business owners and senior stakeholders. Our expertise as project & construction managers is to help navigate everyone on-board through the difficult waters of strong opinions and misunderstandings.

Our collective passion as a team is for the successful integration of the multiple engineering disciplines involved. We blend all this together to transition everyone's concern for what is the right concept to build, into an approachable and easy to comprehend design concept for your data centre. A design that everyone gets and is fully committing to seeing built.



Critical design elements

We view your data centre as an ecosystem. In a data centre everything in the environment is interdependent. Each data centre, by nature of its design, has its own unique set of cause and effect inter-dependencies.

What we focus on:

Location of the data centre, and external elements requiring consideration
The reliability requirements for the facility
Hardware weight, power consumption, and heat dissipation
Calculated power and cooling requirements of the existing IT equipment today and in the future
The projected business/IT growth, and timeline the facility is expected to operate
The potential downtime to the business to renovate/relocate the data centre
Availability, reliability, and scalability requirements
Business resiliency requirements




Functional Design Services

PowerHouse believes a clear understanding of the business and technology drivers behind the project are essential to achieving the desired outcome and objectives. At PowerHouse we start with the end in mind – what the data centre must have to support the operational and reliability needs of your IT department and your business as a whole. Through an interview with the stakeholders we work to create an understanding of the facility requirements while taking into account the realities of site conditions and potential construction costs. Our deliverable is to create a conceptual design that services those needs.


We see you through the whole process
Technical Recommendations


Upon stakeholder sign off of the functional design document, all data centre aspects including architectural, mechanical and electrical will be included in the Technical Recommendation document. PowerHouse provides the specific and detailed design criteria which must be met to comply with industry best practices, applicable codes and data centre guidelines to align with the Functional Design. The areas, which are covered in the Technical Recommendation, are the same as those addressed in the Functional Design; including specific technical information, detailing sizing and exact vendor specifications.



Detail Engineering

Detailed Engineering involves finalizing the technical recommendations and developing all engineered designs and drawings for tender and construction. In this phase PowerHouse Group liaises with project architects and mechanical/electrical/structural engineers to transform abstract concepts into specific details.

It's our passion and curiosity for innovation across all the engineering disciplines that allows us to help facilitate a coordinated design – one that ensures all data centre components will work together in the end. We will facilitate the generation of engineering specifications and tender documents, and are available to review tender submissions to ensure the responses are complete and have not missed any critical data centre items.




Procurement

All infrastructure components must be chosen such that they are compatible with one another, and maintainable over the life of the facility. PowerHouse has direct relationships with leading data centre manufacturers and our knowledge in selecting and integrating these solutions ensures your project goes smoothly.


Build overview

Our team ensures the construction of your data centre meets all the agreed to quality standards, maintains budget, time, and scope.
We have regular meetings to review facility construction and update schedules and budget progress
We identify unexpected events or situations prior to occurance and resolve them right away

Integrated Systems Testing


One of the most overlooked phases of a data centre construction project is integrated systems testing. At PowerHouse, we take this phase very seriously. This is when we verify that the various systems and infrastructure, work together to form a reliable data centre that meets our clients' needs and expectations. Tests are designed to verify the correct sequence and operation of each individual system (electrical, mechanical, etc.) and operation of the data centre as a whole, during normal and abnormal conditions. PowerHouse will organize, manage, and complete the integrated systems testing of the data centre once construction is largely completed on-site. PowerHouse utilizes our in-cabinet server simulators to test air flow, while managing power, thereby ensuring all components perform as a complete system, one that meets the intended design.
We hand you the keys
| | |
| --- | --- |
| Handover | We will provide a comprehensive Data Centre owner's manual and user guide for your facility. Our manual incorporates all design and service documentation, as built drawings, vendor and OEM users manuals, and recommendations for ongoing and preventative maintenance. |
| Training | We offer one time and ongoing component training and best practices guidance. |
| Optimization | PowerHouse Group provides manufacturer supported preventative maintenance to ensure the ongoing reliability of your data centre components and as a whole. Contact us for further details. 



 |
Getting started is simple
Phone: 1-855-395-8802

Complete online form below